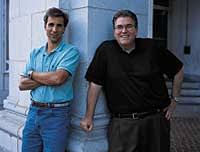 ...wah, wah, wah. Mike Francesa just spent the better part of the last half hour, at least, whining and wah-wah'ing about the unfair treatment he believes he's received in the press about the breakup of the M&MD Show on WFAN. Mostly, what was revealed to me in this wah-wah'ing is (a) Mike's ego knows no bounds; (b) he's very hurt by the whole thing; and (c) he's probably turned off at least half of his audience, who will probably return the favor and turn HIM off, as well.
Face it, Francesa, your nastiness has now come back to bite you in your rather substantial butt. People actually LIKED Dog, and that just kills you, doesn't it? It's not enough for you to be successful in your ventures, which you obviously are (and don't hesitate to remind us), but you want to be liked, admired, and loved by your fans. Just because you're you. I never thought I'd say this to you, but grow up, and take it on the chin.
Now maybe you know what it feels like to be a part of the New York media circus. Certainly, you've dished out your share of it. Man up, shut up, and take it. It's well earned, in my opinion.
And therefore, Mike Francesa, I nominate you as the first candidate for this Friday's Go Fuck Yourself Award. Hmmmm... we shall see. Considering the state of the Mets these days, there look to be many worthy contenders for the award this week...On the bright side, if he doesn't win the Friday GFYA, there's always Coop's BPPOTW award next Tuesday!
Of course, all of this brings me to last night's debaucle in our nation's capitol. You know, the one where a team resembling last year's Mets played the Washington Nationals. Yeah, that game, where the offense continued its pathetic ways against John Cy Young Lannan; Pedro Martinez continued to prove why he should not be let anywhere near Citifield next year; and the Mets continue to prove to their fans why no lead is safe and serve up a nice shiny new example, every night, of why many fans have very simply lost their confidence in this team.